SpacePak Systems
With its seamless design and whisper-quiet operation, the SpacePak Small Duct High Velocity System is the perfect temperature solution for any home, including new construction and retrofits. These heating and cooling systems are compact, yet powerful, and deliver draft-free, conditioned air; an ideal HVAC system for homeowners across Algonquin, Lake in the Hills, Lake Zurich & Lake Forest, IL.

SpacePak Small Duct High Velocity System Installation
SpacePak Systems use pre-insulated, 2-inch flexible ducts, which can be installed almost anywhere to accommodate your home's unique layout; no major renovations required! Plus, the 5-inch air vents come available in a variety of finishes, so you won't sacrifice your home's design with an unsightly wall or window unit.
SpacePak Small Duct High Velocity System Features: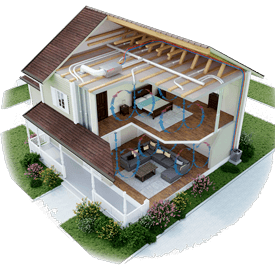 Flexible ductwork & vents fit discretely inside walls, floors, and ceilings.
No major renovation needed.
Soundless operation.
Energy efficient zoning capabilities.
No hot or cold spots.
Reduces over 30% more humidity than conventional central air and mini split systems.
Contact Air Blue Heating and Cooling Inc. for SpacePak System Installation & Service
Air Blue Heating and Cooling Inc. is a SpacePak Certified Contractor. With over 30 years in business, our company has become a leader in heating and cooling solutions, from conventional furnaces and air conditioners to ductless mini splits and heat pumps. Our team combines cutting-edge technology with proven procedures, all backed by a 100% satisfaction guarantee. Contact us to request an estimate for SpacePak System installation in Wheeling, Cary, Buffalo Grove, Highland Park & Palatine, IL.
SpacePak Systems Palatine, IL & SpacePak System Installation Wheeling, IL
SpacePak System Installation & SpacePak Systems

Lake Forest, IL, Algonquin, IL, Wheeling, IL, Highland Park, IL, Arlington Heights, IL & Downers Grove, IL
SpacePak Systems

∴

SpacePak System Installation ∴ Algonquin, IL ∴ Highland Park, IL ∴ Arlington Heights, IL